We are a private Christian Preschool.
All of our staff members have a personal relationship with Jesus Christ.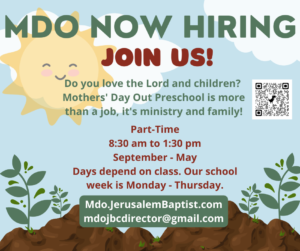 TO APPLY, complete the APPLICATION FORM and remit a resume to:
mdodirector@jerusalembaptist.com
Our preschool year is September through May
Our Pre-K class has grown so we are opening a new class! We need Christian teachers who are warm, flexible, generous in spirit, reliable, loving, and fun!

We also need subs!

MDO is a good fit for stay-at-home moms with school-aged children, seeking a job that still allows them time to run errands, volunteer and pick up their children from school! We also welcome retirees and college students!

SCHOOL DAYS: Monday-Thursday
SCHOOL HOURS: 8:30 – 1:30 (there is some flexibility with arrival time for your family's needs)
LOCATION: 5424 Ox Rd, Fairfax Station
STAFF DISCOUNT: Teachers receive a 25% tuition discount
Our teachers are loving and enthusiastic about helping your children learn how to problem solve, gain knowledge academically and spiritually and how to function in their everyday world.
Each classroom is staffed with a lead and an assistant teacher.
Teachers are active Christians with a college degree and/or proven equitable experience working with children.
All positions require a high energy person with a love for the Lord and children.
Staff receive annual training in child development and are routinely trained and certified in First Aid,CPR/EpiPen and AMAT.